As you put yourself out there and start to learn new things, start offering your help to those in need that are open to your knowledge.
I can't count the times that I've spent connecting with people in Facebook and Twitter and then gotten on the phone or Skype (karyrogney) with them and then helped them with some marketing strategies or guided them to tweak their tactics to improve their results with their business.
It's really fun and I was able to create a new friend in the process!
For you… after you've given some of your best content and ideas and time freely to them, make sure and ask them for a short testimonial. With it you promise to put a link back to their blog below their name. They help you and you help them.
Recently I read an article that had a good suggestion as well. It said to have people write about some of the early observations about you that weren't all perfect and then have them write about this dynamic shift in skill, helpfulness, or character they've witnessed at the end. It will come across more believable and authentic. Something to think about as you write your own or have others write about you.
So the Top 3 Reasons Testimonials Reap Big Rewards in my book are…
Builds New and Solid Relationships
Creates Stronger Social Proof
Attracts More People to Want to Work Directly with You
Please take a moment to add some more benefits to the list in the comment section below. Thanks!
Today's very short video example talking about Testimonials: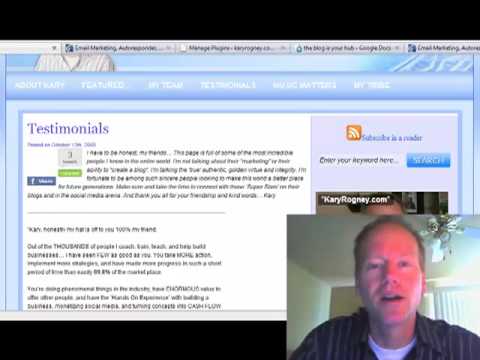 Next time we will get into how to choose a theme and a tag line for your blog.
Yours in support and mastery,
PS Testimonials are easily forgotten or ignored as important to the beginning blogger or entrepreneur. Don't miss out on this simple strategy to quickly build your credibility as an expert in your niche.
And if you haven't by now, go over to http://empoweredblogs.com and get your blog ordered and set up for your own online traffic source.