It happens every once in a while. I have friends who ask me to go hang out or go to the movies. I usually tell them I'm working on some online projects and don't have time right now. And usually what follows is bunch of complaining about being online too much and that I should get a life…
I couldn't help but laugh to myself! I'm completely doing what I love to do and having the time of my life. I hang with people that are like-minded and have goals to accomplish great things. And we all are about having a good time… but I'm also all about Crushin' It!
I call them the "Naysayers"… And have stopped having anything to do with them. Not that I don't like them. I just don't have anything in common with them at this point. Here's what Merrium Webster definition says.
Definition of NAYSAYER
: one who denies, refuses, opposes, or is skeptical or cynical about something
— nay–say·ing\-ˌsā-iŋ\  noun
Examples of NAYSAYER
There are always naysayers who say it can't be done.

<those naysayers who attack the integrity of the entire judicial system>
First Known Use of NAYSAYER
I've been told to look at the top 5 people who I interact with on a regular basis and look at their average income. That will statistically influence and determine my own income. Hmmmmm  That quickly becomes a no-brainer!
Gary Vanyerchuk was right on when he coined that phrase… when you're "Crushin' It" you are passionate about what you're doing and you're working your tail off! I'm not looking for an easy ride or a hand out. It takes a massive amount of sweat equity to build a brand and business today… especially if you're not rolling in the dough right out of the gate.
Social media is totally changing the way business is being done and will be done… we see it all over the news! Now is the time to work hard and smart to establish brand equity within your niche… so STOP listening to others when they tell you to 'chill'.
If we look deep at the main reason these 'friends' are telling us this is because what you're doing magnifies the lack of passion they have for what they are doing… but don't let them drag you down with them!
Keep Crushin' It!
Today's very short video: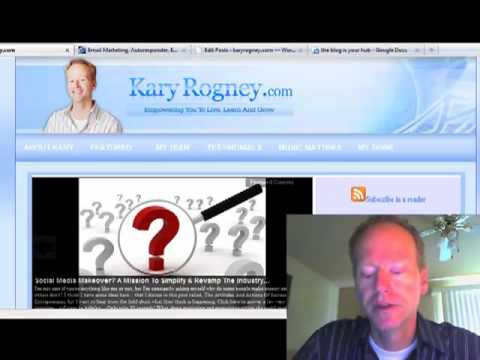 Next time we will get into how to manifest your dreams… a truly powerful message.
Yours in support and mastery,
PS Don't listen to the person who doesn't have the drive or determination that you do to make something incredible out of your life. A blog is the place to let your light shine and make a mark on the world… Here's where you can get yours launched in no time at all. http://empoweredblogs.com
PSS And if you want to surround yourself by a network of like-minded and supportive people then you'll definitely want to check out the Empowered Tribe… a community of masterminds and entrepreneurs committed to your support and content syndication. Don't miss out on this solid community. http://empoweredtribe.com
---