This is one part of blogging that you'd think is a 'no-brainer'… but believe it or not I've actually been to some blogs where I couldn't find a phone number or even a way to send a message to the blogger??!! Weird…
Isn't the goal of having a blog to attract and have people contact you to join your business or to buy your products or services? How in the world are people suppose to ask you questions or get more info if you don't make it overly simple and obvious to do so?
You can decide for yourself if you want to give out your phone number or not. I do and have had people be shocked when they reached me at my home number and not reach a recording or something.
My goal is to talk to as many people as possible. I don't buy leads, so the next best thing is to have people call me, right? Well, that will only happen if you don't scare or chase people away by selling your potions, pills, or lotions in their face.
By making it easy and by having attractive or magnetic content on your blog you truly have the opportunity to be a top producer for whatever you decide to market on your blog. I have been month after month for my main business opportunity and most people contact me through my blog for more info or just message me that they're ready to get started. Pretty simple in my book as long as you give them a simple way to do so.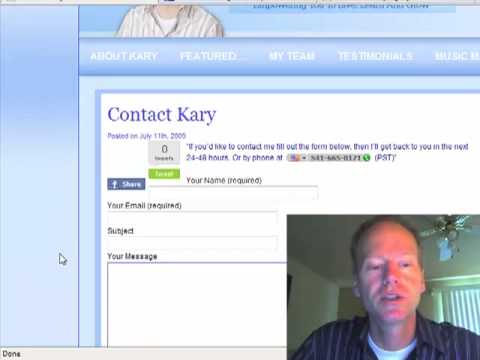 Don't over look this basic and important component to your blog.
Here for your success,
PS Being easily accessible is really important, and having a place like a blog as your hub of all your online activity is crucial. As more traffic flows to you and the more you give in value with your content, there is no way around not attracting people who will want to join you in business.
As you can see on my right side-bar I also have a way for people to call me through my Google Voice number, too.