So it's been over a month now since Katie Freiling launched her much anticipated Unified Tribe Syndication Platform. I had been eagerly waiting for it for over 6 months and when it became available I was eager to jump in and give it some action. And I'm so glad I did!
Below is a Top 10 List of why I use the Unified Feed for syndicating my content across the social media sites like Facebook and Twitter… The following video is where I pull back the curtain and give you a behind the scenes view of what it looks like and how easy it is to use.
Autosyndication: I submit my content and links and people go to work sharing my posts and videos for me!
Traffic: I've seen a MASSIVE increase in traffic to my blog since joining the Unified Tribe.
More Business Partners: Weekly and sometimes daily I'm approached by new people who want to partner with me in one of my business opportunities.
Social Credibility: Since I get so many ReTweets, Comments and people joining my Google Friend Connect and Facebook "Like" page, my benefit is increased social credibility.
Personal Branding: Along with the increase in traffic and exposure comes and increase in my brand recognition. I have people telling me all the time that they see my content everywhere on the social media sites.
More Comments: Increased traffic brings more people commenting on my content. When that happens I'm able to interact with visitors and create a community feeling and hub spot for learning.
Community: In the Unified Tribe there is a massive community of like-minded entrepreneurs that I can network and mastermind with to reach my business goals. (Invaluable and usually overlooked.)
Subscribers: I've seen a large increase of people subscribing to my blog for updates and for my free give away. This is one of my most valuable assets.
Mentoring & Training: Within the community there is a ton of training and mentoring to learning key tips and strategies to be a better blogger, marketer, and entrepreneur.
New Friendships: I've made some incredible new friendships with the community as well.
If you haven't had a chance to see more about what the Unified Tribe looks like and how it works, watch my short video below and also go to http://tribesyndicationrevolution.com to learn more.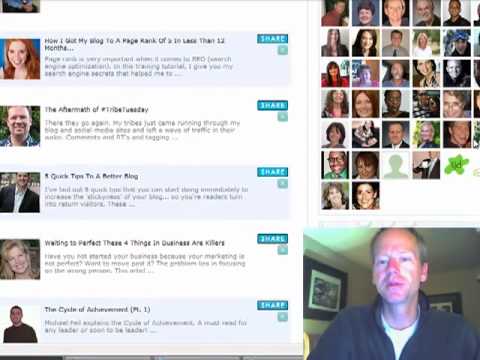 Thanks so much for sharing this post with your Twitter Followers and Facebook Friends and for leaving me your own thoughts about your own Unified Tribe experiences.
Yours in support and mastery,
PS. Never before have we seen the massive swing to online Tribes and this incredible content syndication model. If getting plugged into a solid, core mastermind groups is an interest of yours, please direct message me and I'll pass on the details. 100′s of people already have! Come and join us. It's a blast! And the massive traffic is pretty cool too!
---